We are excited about our Parent Teacher Organization for the year of 2023-2024! Plan now to join PTO this year and getting involved in what is going on at Southside High. There is no better way to stay connected and involved in your students education than to be actively involved at their school.
Our PTO President this year is Mrs. Tracie Griggs.
Please click here for more detailed information about how to join our PTO and to see some of the plans for this year.
Stay connected to our PTO!
Text the message @shspto23 to the number 81010 and then go join our PTO FB Group "Southside High PTO".
BSN Southside High School Apparel Store
We have partnered with BSN Sideline Store to offer our student and community Southside Apparel.
To shop, click here!
| Hey SOUTHSIDE HIGH SCHOOL fans! 🍂 Get ready for sweater weather with Sideline Store. Pile on your fall favorites in our exclusive designs. Create a signature look that's perfect for game time. Start shopping at your SOUTHSIDE HIGH SCHOOL Sideline Store now. |
FREE ACT Study Session Available offered by ECBOE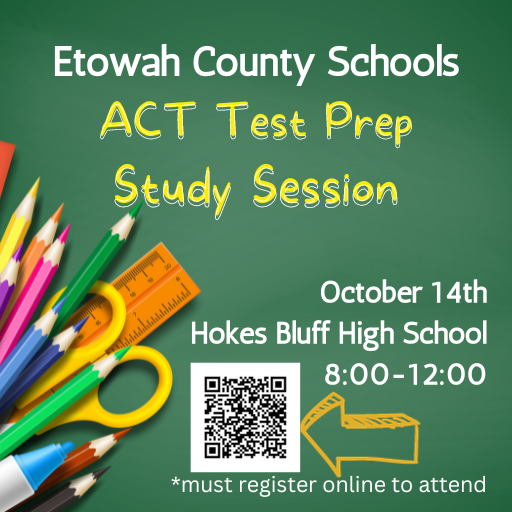 Our next 2023-2024 ACT Saturday Test Prep Session will be Saturday, October 14th (8:00am - Noon) at Hokes Bluff High School for grades 7-12! FREE
You must register in order to attend.
WELCOME TO SOUTHSIDE HIGH SCHOOL
Student Device Policy:
Students shall not possess any digital device within the testing room when participating in ACAP testing. The possession of a digital device by students participating in ACAP testing is strictly prohibited during the administration of a test. The ONLY exception to this policy is for students who have been pre-approved by the Building Test Coordinator or the Principal to have a digital device that is necessary for the health and/or well­ being of the student.
If students are in possession of a digital device that is within their reach during the administration of an ACAP test, the device will be confiscated and, if the appropriate administrator determines that there is reasonable suspicion that the device was used to capture, record, or share test information or to facilitate cheating on the test, it may be subject to search pursuant to LEA policy for any information directly related to the ACAP test being administered. Additionally, the student will be dismissed from testing immediately and the test may be invalidated in accordance with ACAP policy.Violation(s) may result in disciplinary action by the LEA in accordance with the LEA's disciplinary policy.
Sorry, but there was nothing found. Please try different filters.